Details
Move yo' body rhythms reverberate in this beat-filled visual mixtape that blends poetry, dance, media, and music. Equal parts comedy, pain, and retrospection, Paige Hernandez uses the stage to share her own story as a multicultural girl growing up in Baltimore who is desperate to fit in and find her voice. Paige's journey through hip-hop leads to self-discovery to become a leading artist of this generation. Sibling-duo Paige Hernandez (writer and performer) and Nick tha 1da (musician) in collaboration with Danielle A. Drakes (director) and Bryan Joseph Lee (dramaturg) have developed a unique coming-of-age story that speaks to a dynamic hip-hop-influenced generation.
Location
Eve Alvord Theatre
Age Recommendation
For Ages 11-18
Running Time
Approx. 60 minutes with no intermission
Industry Preview Night
Wed, March 22nd, 2023 at 6:00pm
Performances
This production has past.
Active Audience Guide
Our Parent Guide filled with articles, activities, interviews, and behind-the-scenes photos and more!
Click here to view the Encore Program for this production.
Artists
Cast / Creative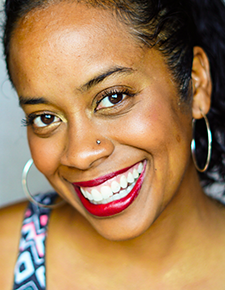 Paige Hernandez
Performer
Production Team
Paige Hernandez Writer & Choreographer
Nick "tha 1da" Hernandez Sound Design & Hip Hop Production
Danielle A. Drake Director
Tewodross Melchishua Projection Design
Kris Funn Set Designer & Original Music
Lisa Vivo B-FLY Production Manager
Liz Clayton Stage Manager
More Info
Join us March 24th after the opening night performance of Paige in Full for a Conversation with Paige. KEXP's Renee Jarreau (DJ Reverend Dollars) will sit down with artist Paige Hernandez to engage in a deeper conversation about young people, music, and its impact on life and artistry.  
Biography of DJ: 
Reverend Dollars is a Seattle-based DJ, musician, and producer who is co-organizer of the PØWER event series, founder of the Darqness Seattle Arts Collective and currently hosts a weekly radio show early Thursday mornings on KEXP. Much of her work has focused on bringing together marginalized Black, Trans, and Queer communities through the mediums of music and dance, with energetic DJ sets known for house, club, and hip-hop beats played at a frenetic pace. Their most recent project, PVNKHAVS EP (available at reverenddollars.bandcamp.com) was released in April 2021.