Gratitude Report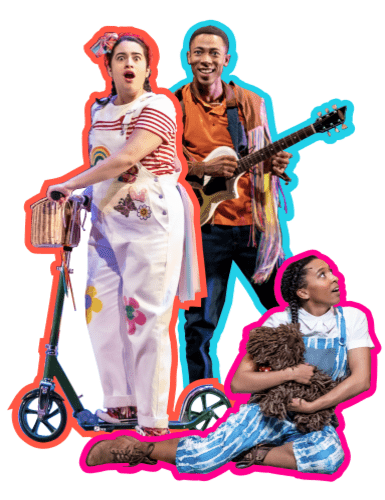 "When  I grow up I want to perform on stage."
– Child who saw Carmela Full of Wishes
Dear Friends and Supporters of SCT,
"The show must go on" has never been a more fitting adage. In a time of immense uncertainty, with disrupted and interrupted productions, Seattle Children's Theatre (SCT) demonstrated resilience by returning with a daring 2022-2023 season. Our season opener was the 122nd World Premiere, The Boy Who Kissed the Sky, authored by our new Artistic Director, Idris Goodwin, and directed by the brilliant Tim Bond. This SCT-commissioned play paid tribute to the early life of the iconic Seattleite Jimi Hendrix and served as a source of artistic inspiration. Following its electrifying run in the Charlotte Martin Theatre, this remarkable addition to the Theatre for Young Audiences (TYA) canon saw two more productions in other major cities within just one year. It was a fitting inauguration to SCT's recent season, designed to celebrate the rich cultural and artistic diversity of Seattle's vibrant communities.
None of these achievements would have been possible without the steadfast support of our patrons, ticket purchasers, drama school investors, volunteers, and dedicated staff. We extend our heartfelt gratitude to our loyal season sponsors, ArtsFund, Microsoft, and The Shubert Foundation. Thanks to your generosity, we reached 130,000 individuals and provided over 60,000 free or heavily subsidized tickets to children throughout the Puget Sound region.
As we embark on our 49th Season, we remain committed to forging inclusive pathways and partnering with an array of communities. We treasure the narratives shared with us, as they help us uncover universal values within the specific experiences of our diverse audiences. We invite you all to join us in embracing our core values of "Clap Hard, Cry Hard." Together, we can laugh big, cry big, ask big questions, and feel big feelings.
In 2025, Seattle Children's Theatre will commemorate its 50th anniversary, and we eagerly anticipate your continued collaboration and support in the upcoming year and beyond. Thank you for being an integral part of our impact.
With gratitude,
Kevin Malgesini
Managing Director
Idris Goodwin
Artistic Director
Anh Nguyen
Board President